Allan Ageman, Managing Partner
Saying that Allan Ageman has some knowledge about the staffing Industry is a huge understatement. Allan has been in the staffing field for over thirty 30 years. He is a highly dedicated and ethical professional leader with the ability to quickly and effectively implement solutions to the long term and day-to-day business problems that are a constant in the staffing business. Prior to joining The Bachrach Group, he owned two highly successful search firms. Agemen adamantly emphasizes that in order to run a successful search firm, the recruiters and sales team need to have the flexibility and ability to understand the client and candidate's needs, as well as a commitment to integrity and ethics.
Allan's management style has created an exceptional atmosphere for TBG's employees to be highly successful and to thrive and grow in an exciting, fast paced environment. In Allan's own words: "It takes performance, that's what has won us our clients. Not yesterday's performance; that's past history. Clients want performance today. At TBG, that's what we give them!"
Anthony Fanzo, Partner
Anthony manages the day to day production at TBG. Anthony started his staffing career over 20 years ago as a full desk technology recruiter. Since then, Anthony has had leadership roles managing multiple markets with A-L Associates, Spherion/Mergis Group and Staffmark.
He has been integral in the development and expansion of TBG into new practice areas and is committed to opening new offices around the country.
Previously, Anthony had a successful career as a stock broker with Prudential Securities and Goldman Sachs. He holds a BS degree in computer science from Fordham University, and held series 7, 6 and 63 licenses.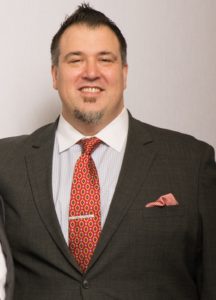 Allan has come through for me on a number of difficult searches when other service providers couldn't. He and the team are on top of their game and I would recommend them to anyone who asked me. Not only do they supply professional services but they also make it a fun and enjoyable experience. They are the go to firm to use if you have any challenging or difficult searches.

Having been in Recruiting industry for my entire career I have worked with many contingency search firms. Bachrach is definitely top tier and has been a tremendous resource for me in helping me fill difficult positions. Allan's team consistently demonstrates the highest degree of professionalism- taking the time to properly understand my business as well as the finer points of the individual position we are filling resulting in a smooth, efficient process.

In my role as both Recruiter and Recruiting Manager at Citi, I worked with Allan for over 17 years. During that time, he and his staff were responsive and collaborative. They delivered results regardless of the task.

Mr. Ageman boasts profound expertise across multiple domains and is an excellent relationship manager as well as a strategic staffing partner.
I have worked with Allan and his team for many years. He provides my firm with top level candidates for some of the most difficult roles on the street. His service level and knowledge level of my business are what set him and his company apart from many of their competitors.

I've worked with Allan for over 20+ years in providing technical resources for various staffing levels in the IS market. He has always been dedicated and professional in defining the needs and locating the correct candidates. Instead of being flooded with resumes, only candidates that fit my requirements are provided.

I have been working with Allan and his companies for 13 years and he has enabled Broadridge and ADP to succeed by providing the exact resource needed to achieve the desired result. We have been successful because of Allan's out of the box solutions. When Allan makes a commitment he delivers. This is an excellent trust relationship so I know when I reach out to Allan he is there. I was initially drawn to Allan because of his credibility in the industry and his firm's business knowledge. The scope of engagement between our firms has grown as Allan has started new solutions. I have been a proponent of Allan and his firms to the point I always recommend him and his firm to my clients and vendors. Integrity is an essential part of the firms I elect to do business with and Allan and his firm continue to display that quality.
Allan is highly competent, personable and results oriented. He asked all the right questions and set me right at ease regarding the quality of people he could secure for the various projects I oversee. His staff is quite knowledgeable and always responds positively to any recruitment assignment given them. When issues arise, his staff is quick to secure responsibility and resolve the matter with minimal to no effort on my part. His agency is one of the first I call and I rely on their efforts a great deal.

I've known Allan for many years. Time and time again I've brought him in to do tough competitive searches and time and again he and his team have delivered. I trust him to be able source difficult to find candidates that can pass muster at the top hedge funds I've been at and to be a great guy to work with throughout the process.

I have known Allan in a variety of capacities for many years. I was employed at The Bachrach Group as a Recruiter for their accounting and financial staffing division. Working for Allan and his team was everything I could have asked for in an employer. Allan's approach to managing his team was quite refreshing. He encouraged creativity, flexibility and innovation.

The one attribute that stands out to me, even after all of these years, is his honesty. In my opinion, honesty, integrity, and genuine respect promote one of the most crucial elements in a healthy work environment, and that is exactly the type of environment and corporate culture Allan promotes and fosters over at The Bachrach Group.

Since then I have moved on to another company but regularly keep in touch with Allan for staffing support in my organization and also as a friend. I would recommend any of my friends or family to work for him and most definitely recommend any organization to utilize his seasoned staffing professionals to recruit for their open positions.
Learn more about our team…