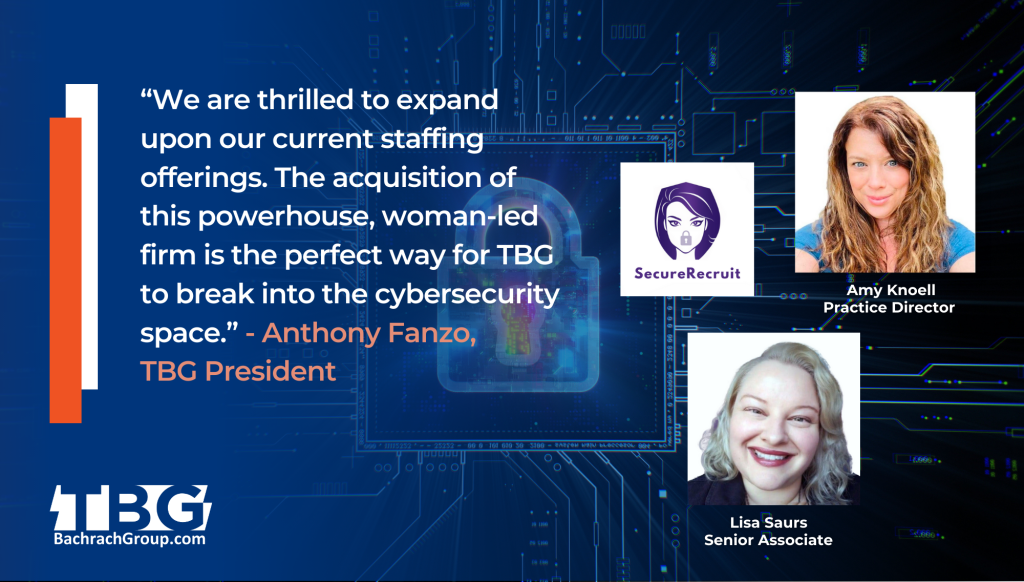 The Bachrach Group is proud to announce the launch of their newest recruiting division, TBG Cyber, through the acquisition of SecureRecruit. SecureRecruit, a fully female-led startup developed by Amy Knoell and Lisa Saurs M.S.D.M., has grown to become a powerhouse in the cybersecurity recruiting sphere. TBG Cyber began operations Tuesday, September 5th under TBG's technology recruiting division, with Knoell and Saurs bringing their knowledge and expertise in the field of cybersecurity to the team.
TBG has recognized the growing need for exceptional professionals in the field of cybersecurity, and now through TBG Cyber is primed to address this need on a national level. With the introduction of TBG Cyber, TBG is excited to expand further in the technology field with the goal of being the complete, one-stop-shop for any technology staffing needs.
Andrea Sielken, TBG's National Managing Director of the Technology division, believes TBG Cyber will push TBG's technology team to soar to new heights. Sielken said, "Having been a part of the cyber market, specifically my involvement in building a cyber startup in the past, I couldn't be more excited to expand my team's focus and to be partnering with two fellow colleagues who share in my passion for bettering the cyber community." Sielken, an expert in technology recruiting, recognizes the need for talent in the cybersecurity field, which is projected to be one of the top areas for new careers in the next five years.
She further stated, "The cyber market is passion driven; these individuals are completely enamored with placing the right candidates in the right positions because of how much they care about what they do. With the market growing and demand in turn increasing, TBG Cyber now gets to serve as the matchmakers in cybersecurity, and better serve our clients looking for all types of talent in this area."
Beyond their knowledge in cybersecurity recruiting, Knoell and Saurs also bring their phenomenal values-based business approach to TBG. Amy Knoell is a member of the Information Systems Security Association – Atlanta, WiCyS Atlanta (Woman in Cyber Security), and Cyversity. Lisa Saurs is a member of WiCyS (Woman in Cyber Security) Chicago, Raices Cyber Organization, and is a volunteer for the Information Systems Security Association, the International Information System Security Certification Consortium, and Smart Cities. TBG Cyber, and TBG as a whole, champions diversity and inclusion and uses these values to drive successful business.
Anthony Fanzo, President of TBG, is excited to see what TBG Cyber will achieve.He stated, "We are thrilled to expand upon our current staffing offerings and venture into the cybersecurity recruiting space with the acquisition of SecureRecruit. The acquisition of this powerhouse, woman-led firm is the perfect way for TBG to break into the cybersecurity space. We are thrilled to have Amy Knoell at the forefront of this venture; we couldn't ask for a better expert to lead this endeavor."