How does music help build a strong team environment?
The digital team, consisting of 9 eclectic recruiters and sales people, is constantly playing music throughout the work day. You can really learn a lot about your colleagues and their mood by their listening methods, and the artists they choose to play.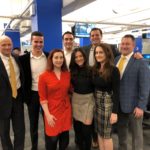 When working independently, we wear headphones to really stay in the zone. Other times, we play music aloud and feel it really brings us together and exudes a positive vibe. We find music is the engine that keeps the Digital train moving! Music is truly something that uplifts us during times when our jobs can get really tough. Moreover, it gives us the energy we need to do our jobs well!
We don't just stick to one genre but each one of us explores the music spectrum. From boy band Tuesdays to disco Fridays, we try to satisfy everybody's music palate. We are often pretty silly, singing aloud, going down memory lane, sharing anecdotes while working diligently.
We have certain days designated to uplifting beats.  For example, James and Max have really bonded over and grew their relationship by way of their musical duet numbers on 'Perfect' by Ed Sheeran. On the other hand, Jon Bobrow gets through the day by falling into the deep abyss of hard/ alternative rock. He is always "in the zone."
Max, our fearless leader, loves Phish – and often plays this loudly from his phone. This often stirs up debate of whether Phish is the new Grateful Dead or whether it is the best band ever, or not even music at all. This gets controversial. The same goes for Radiohead that the COO plays loudly from his desk.
The one and only Jackie, finds herself singing along to the greatest hits from Whitney Houston (RIP), Celine, Cher and of course, today's hits. Alina rocks out to Cardi B "and she don't got to choose." Stephenie kicks back to classic rock. The digital team had the pleasure of learning about some really cool underground bands, that Stephenie brought to our attention. Troy is more of a mystery.  We do not really know what he listens to but it is definitely trendy. James then comes in with his wealth of knowledge about old school hip hop into today's newest R&B hits. He and Alina really rock out to all rap and R&B and bond over this. It is important to note that Cardi B is a favorite of the group.
Finally, Steve listens to heavy metal during the day. If you have the pleasure of working late into the evening with Steve, he really lets his hair down and plays classical music aloud. Classical music is a favorite of ours and is really just a great choice for the workday. It truly stimulates your brain, like a natural cup of coffee. This is definitely high on our list as it is soothing while energizing.
As you can see, music really helps us to stay on track and concentrate while being able to blow off some steam and keep up that much needed enthusiasm for our workday.
Additionally, music has really brought our team so much closer. The office can always count on us to be enjoying jams, singing aloud and just enjoying working side by side with another.
We recommend music in the work place to everyone reading this!