Looking for a new job? Let's make sure your social media is in top shape
WINTER IS COMING and for some folks that means it's time to gather your army, stay vigilant and protect your house. If you're not from Westeros, then maybe winter is more about hot chocolate, putting up holiday decorations, spending quality time with friends & family and cleaning up your house to usher in the new year…speaking of New Year, according to a recent CareerBuilder survey, 1 out 5 people are determined to find a new job. Finding a new job is often a job in and of itself and in major cities the competition is at all-time record high.
Employers are no longer looking for people with a few select skills, they're looking for well-rounded people who can bring a plethora of different things to the table. One thing that you can do to make sure you stand out to your destination employer is to make sure that your digital skills are top notch and make sure that your digital footprint is a positive one. Some (not all) employers will conduct a light search of finalist candidates to make sure that they're bringing someone on board that is going to bring value to their culture and social media profiles can be very telling. According to CareersSavvy.co.uk, 65% of employer's research candidates to gauge their professionalism in terms of social conduct, 51% to evaluate a candidate's fit into company culture and 45% to learn more about a candidate's qualifications.
Know all those photos from your spring break days that you've kept from your parents but got so many likes? Those memes that expressed your disappointment at something political? How about that time you had a really escalated Facebook or Twitter fight about your favorite sports team? If you're keeping these things up for nostalgic purposes then that's cool, but you might want to consider turning your privacy settings way up so that you're only sharing those things with your close personal friends…or you might want to start anew and create a clean slate.
Several folks have a personal Twitter and/or Instagram and a more professional, client-facing one that they can keep up on industry specific trends, follow industry trade publications/blogs, and also communicate with other colleagues. This highlights your passion for your craft and genuine interest in your professional growth, which employers will greatly appreciate. This also highlights your ability to work with digital tools and your social media prowess which could tip the scales in your favor while you search. Self-expression is super important and we are all for it – but it's always in your best interest to present your very best self-online.
Don't miss out on a great opportunity because you forgot those videos from your friend's bachelor/ette party. This advice also goes for hiring managers. Think candidates won't Google you? Think again. They want to make sure they're working with someone who is smart, inspires leadership and is compassionate and kind – what you share online can speak volumes about what working with you might be like. This holiday do a simple Google search on yourself and do a little trimming if needed. You can thank us later!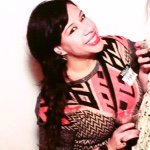 Stephanie Perez | Associate, Technology & Digital