It's completely normal to be elated when your candidate accepts an offer with your client – you worked really hard to help them through the process and cross the finish line. You stand up from your desk, scream out a big hoorah, and let your manager know the exciting news. But is your job really done?
Absolutely not! As a professional search recruiter, there are even more actions required to make sure your candidate walks in the door on their first day. If you read my first blog for TBG (hint hint) https://bachrachgroup.com/2018/10/16/how-to-prep-candidates/, then you know what it takes to get your candidate through the entire interview process. For a professional search recruiter, it requires a lot, but the hard work that you did is one of the reasons why you've gained the trust of both your candidate and client.
Most of the time, the offer you give your candidate is going to be a verbal one. There may be some negotiating back and forth on salary, and then your candidate is going to need to speak with the client's Human Capital Management (HCM) Recruiter to discuss things a bit further, like benefits and start date. HCM will get your candidate a written offer letter, which could take a few days, depending on what signatures might be needed.
This is where things can get complicated. A background check needs to be done, drug test, and references need to be called – which can take a lot of time, because people are busy. Typically, candidates aren't going to put a two week notice in until all of the requirements have been met for their new job. In reality, once the offer letter is signed, it can take a week, or possibly even two, to get the "all clear" from the new employer. Now it's time for your candidate to resign, which can be difficult, cause nervous knots and in the candidate's stomach, and also complicate things even more.
I recently worked with two candidates who had lengthy tenures with their employers, and they didn't know how they should write their resignation letter. Both candidates were excited about their new job, but they were also a bit anxious about letting their managers know they were leaving the company. I provided them with two samples of a resignation letter that I had turned in to previous employers, and I told them it's best to keep things short and sweet. I'm a big fan of the website "The Balance," and this article about resignation letters is great, not to mention it provides samples: http://tiny.cc/mh82cz. If you have a candidate that needs help with their resignation letter, you should send them examples and provide the link to the above article.
Now, what is both a client and recruiter's worse nightmare? The counteroffer. It's extremely important to make sure your candidate is prepared for their employer to potentially give them a counteroffer. Everyone needs to be educated on the actual statistics of an employee accepting a "better" offer to get them to stay at their current company. I always provide candidates with a link to this site, with the scary statistics of accepting a counteroffer, which was published by a software company out of the UK: http://tiny.cc/uxo3cz. The bottom line is this: 9 out of 10 candidates who accept a counteroffer from their current employer end up leaving the company within 12 months. This statistic is the same for the US.
Now I'm going to speak to anyone and everyone out there who's currently in a job search or thinking about starting one: If you're looking for a new job, there is always more than one reason why, and it's important to sit back and think about why you were looking for a new position in the first place. I'm going to reference another article by "The Balance" http://tiny.cc/ymp3cz because it goes through the psychology behind why you were looking for a new job in the first place. This article makes a great point – your current employer is really only looking out for themselves. If they truly valued you as an employee or wished to provide you with a clear path for growth within the organization, you would have already received the merit increases you deserve, or perhaps a larger bonus. If your goal is to climb the corporate ladder, you would also be on a track for a promotion and eventually be in a position that you've dreamed of ever since you started working for the company. It's definitely a hard pill to swallow, and everyone (most of the time) feels bad that they're leaving their current company – some people even feel guilty. But you need to remember this: you need to do what's best for YOU, or for your family, not the company that will end up replacing you and starting a search for a new employee before you even have time to pack up your desk and say your goodbyes.
To all the job seekers: If you land your dream job or get a new position with a company that is going to provide you with what you need – grab the bull by the horns and take it! And don't forget to celebrate your new chapter in life! You're going to go through a learning curve, but be excited for the opportunity you've always wanted, and remember that working with a professional search recruiter is most likely the easiest way to find a new position.
And to my dear colleagues and recruiters: Make sure you're prepared to hold your candidate's hand through the entire process. Don't forget to check in on your candidate after their first week, two weeks, one month, three months, and even years down the road. You worked hard to build that relationship, and you never know what may come out of it – in the 10 plus years I've been in professional search, I have placed candidates that have become hiring managers, and when you do a great job at building and maintaining the relationship, you won't be forgotten.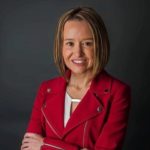 Written by : Erin Teso – Director